MORE THAN JUST AN HVAC FLAT RATE PRICING SYSTEM
Picture Perfect Pricing is more than just a flat rate pricing solution for HVAC companies, it is a Field Service Management software solution.

By listening to our customers, Picture Perfect Pricing has evolved through the years to be a complete solution for your HVAC business.

Picture Perfect Pricing now has everything you need to run your HVAC business - Customer Management, Dispatching, Diagnostics, Invoicing, Synchronization to QuickBooks, Reporting and of course Flat Rate Pricing.

Here are just some of the features beyond flat rate pricing.
---
Dispatching
Dispatch and manage your service calls with ease.
Calendar or Map View
Map view - no more running a technician all across town wasting gas and precious time
Weekly Map view - schedule effectively to maximize the number of calls completed in a day
Daily, weekly or monthly views
Click-and-drop to reschedule service calls
Color coded to easily see status and technician's schedule
See technician progress in real-time
System automatically sends appointment reminders
Manage open service calls
Never forget about service agreement tune ups again!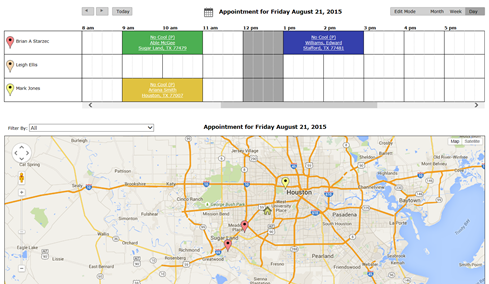 ---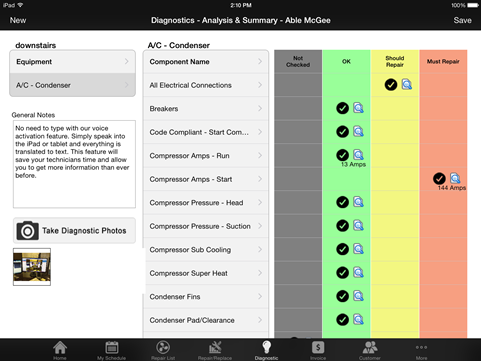 Diagnostics
Start your customer conversation with the best diagnostics tool. Technicians can now present a complete diagnostic of the equipment condition with just a few taps on their iPad or tablet.
Give the customer more choices, the diagnostic screen presents "Should Do" along with "Must Do" repairs
The customer knows: What was checked
The customer knows: What's fine
The customer knows: What should be repaired
The customer knows: What must be repaired
The customer can SEE problems when pictures are added
With voice-to-text functionality, adding descriptive comments that your customer can actually read and understand has never been easier
Record measurements
---
Invoicing
Customers and technicians build their invoice together with familiar shopping cart and checkout process.
Search to quickly add repairs
One-click to add service agreement to invoice
Clearly show DECLINED repairs
Customers are happier: the customer is more informed, the transaction is made simpler and the process is more familiar with this type of pricing approach
Technicians are happier: the system practically does the selling, no more calculators or remembering who gets discounted pricing
You are. . .well, you are ecstatic: More repairs are sold per call, more sales per year per tech, more Service Agreements sold, AND a happier customer who is comfortable enough with the experience they will call you first the next time.
Synchronizes to QuickBooks Desktop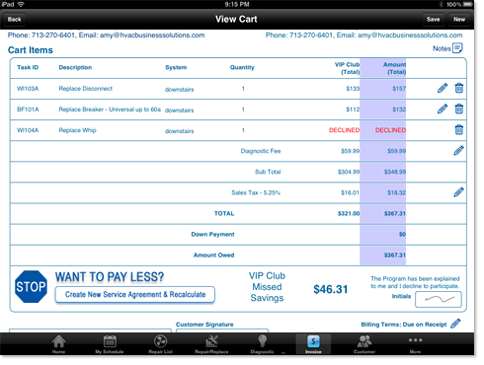 ---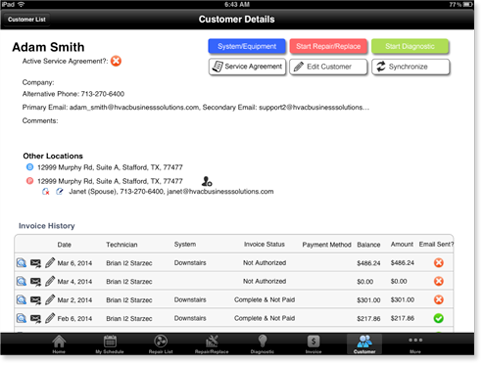 Customer Management
First impressions make a big difference. With Picture Perfect Pricing, the technician walks into the repair well prepared.
Know your customer better - See customer history and past recommendations before walking through the front door regardless of which technician serviced the customer before
Immediately know if the customer has an active service agreement
Enter equipment details quickly and easily
View past diagnostic reports - view past measurements and photos from previous technicians
Update phone numbers and emails out in the field and sync back to office
---
Reporting
Quickly sort through your data to the information you need at the office or for the field
Make Sense of Your Data and create summary reports to get a bird's-eye view of your service business
Share With Your Team at the office or online and choose which is the best way to share information
Have access to a "dashboard" of key performance metrics to help make smart business decisions
Run marketing reports - How much business did you gain from Angie's List or other forms of advertising?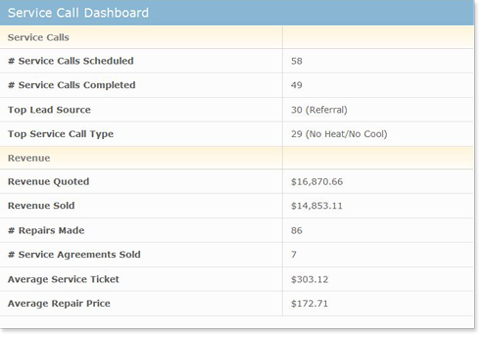 ---